YOUR IDEA could have been one of them.
Our Services
We are here to help

your endeavour

succeed in
Get started in 3 easy steps
step 1
Schedule a
consultation
Schedule a quick 30-minute free call with us so we can discuss your product idea and assess your needs in terms of product research, analysis, design, and development.
step 2
Allow us to create a
customized plan
We believe that every client is unique and requires a personalized approach. Our team will strategically create a plan outlining how we're going to work together and achieve product objectives.
step 3
Let's execute the
plan together
Your product idea will only take off like a rocket if you execute it well. We'll put a launch plan in place for you, and then we'll be here as your go-to team to turn your product idea into reality.
Products we helped to make a success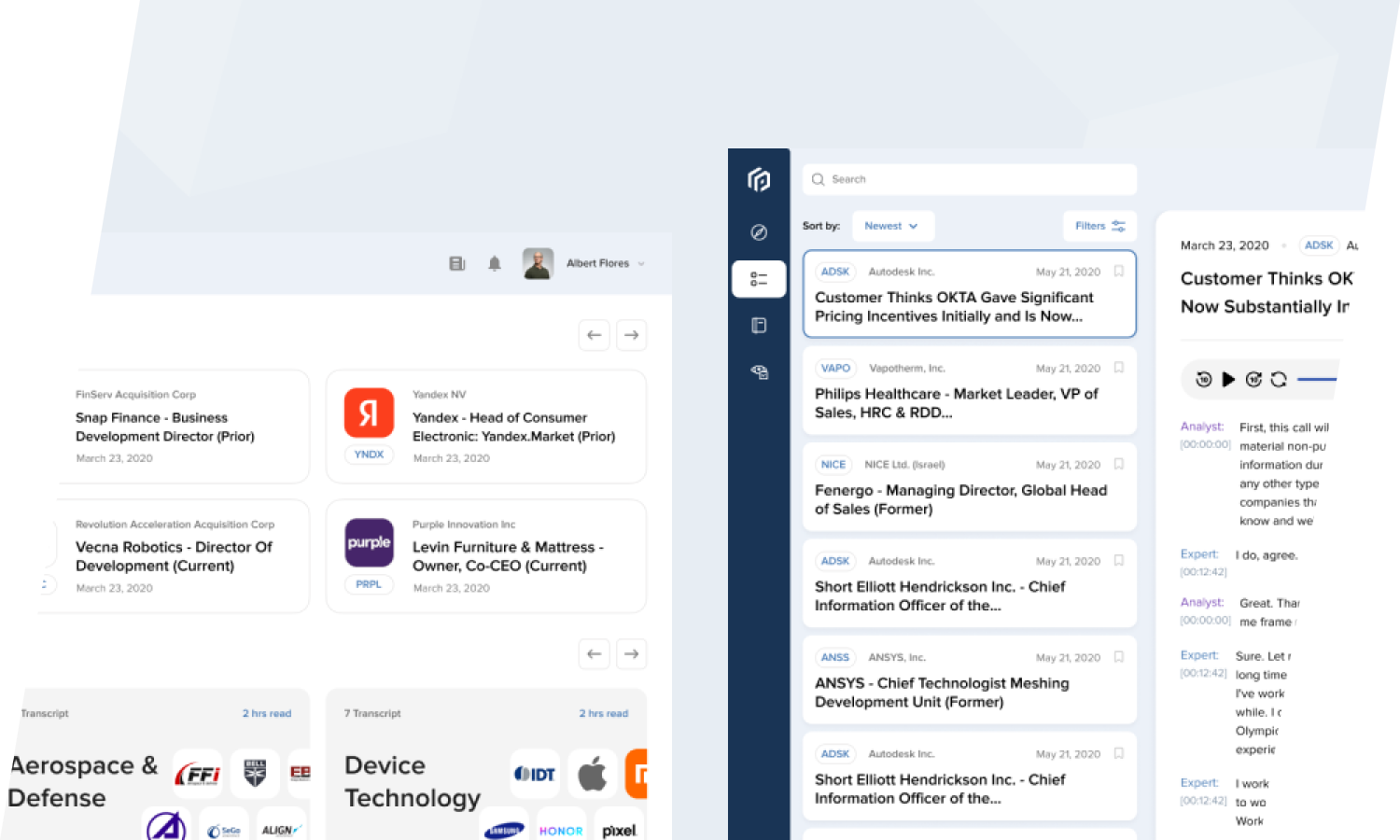 Research Content Library
Online SAAS platform for sharing expert's call transcripts and recordings with hedge fund analysts.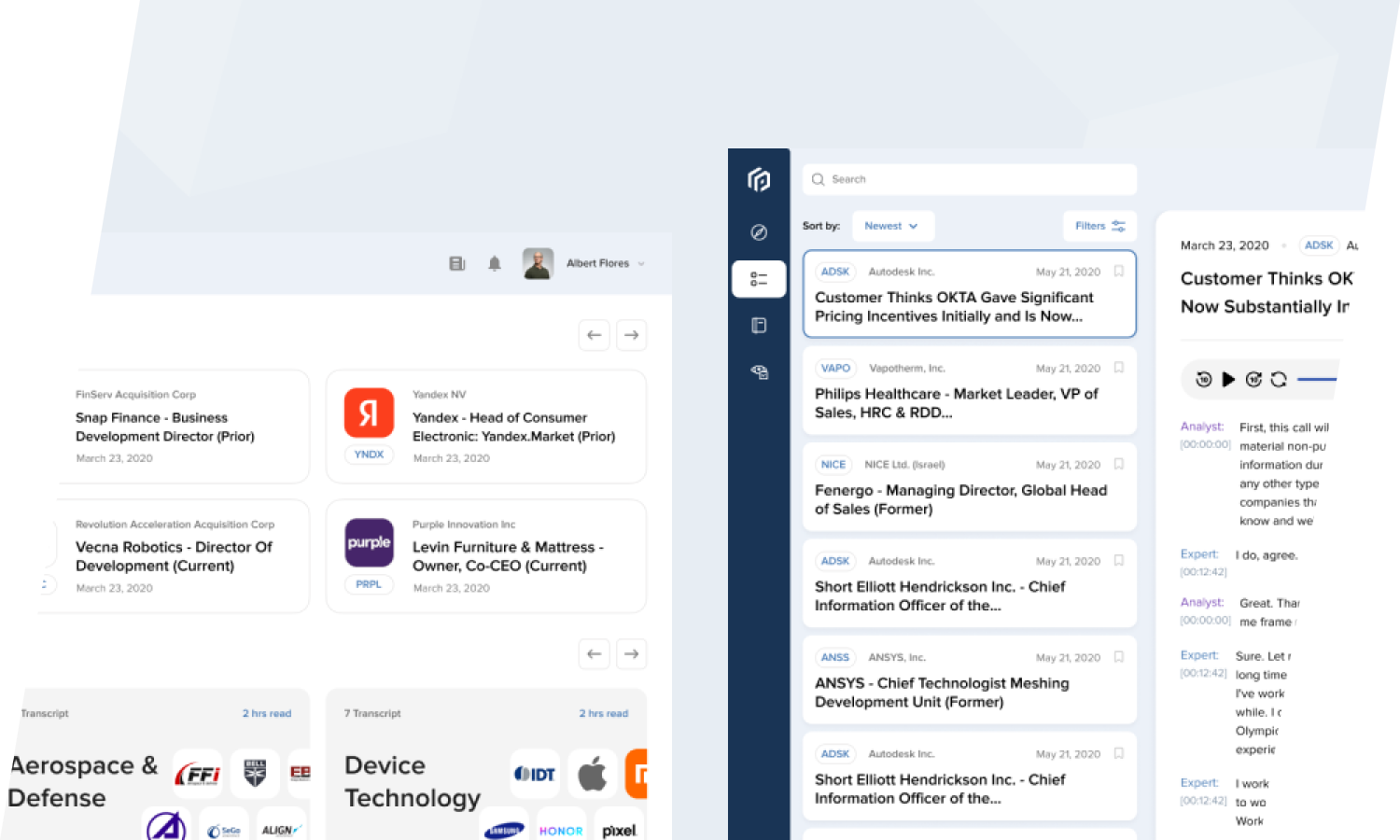 Research Content Library
Online SAAS platform for sharing expert's call transcripts and recordings with hedge fund analysts.
What Our Clients Say
Tim
CEOSmartMatch

App
Productera is extremely professional in their approach. All the work done by them was of high quality and executed in a very detailed manner. Their adherence to the deadlines, customer experience, and to the main vision is impeccable. Communication is very effective with our whole team. I would highly recommend Productera for a serious product development project.
Troy
CEOMosaic Research

Management



Productera helped us to shape up a rough idea we had into a working and profitable product. All the work from the design to coding was done extremely well. Their project manager was always there to help us and address any concerns we had. The work process is simple and transparent. We were confident that every iteration was well thought out by the team and would bring us closer to our business goals. We will continue working together with Productera on a regular basis.
Matt
CEO

Restock Revolution
We engaged Productera to help us with developing a professional UI for our Inventory Management SAAS. The emphasis was on usability as well as implementing an overall style for the site. They smashed it out of the park, helping us to achieve an incredibly premium looking product that also simplifies a highly complex and function rich system. The solutions that Productera would come back with were almost always spot on with minimal amendments required. Can't recommend highly enough.
Our Team
Alex
Founder, CEO
Serial entrepreneur, innovator, an expert in Product Development, User Experience, and Design. Has successfully managed product teams for over a decade. Enjoys traveling and being in nature.
Ihor
Lead Developer, CTO
The technical brains behind every project— With a pinch of magic code and technology architecture sauce, he can create any project. Outside work, he spends his time kayaking and camping.
Rodion
Product Designer
Our creative genius—who spends his free time painting and watching films—will turn all your rough ideas into pieces of art that look beautiful and are intuitive and easy for you to use.
Nino
Project Manager
With her extensive background in managing IT teams, she proudly succeeds in all her projects. She has a side passion for writing fiction stories, playing guitar, singing, and traveling.
Clara
Business Analyst
Working with application workflow design, prototyping, and requirements analysis lets her combine technical knowledge and creativity. She also enjoys painting, running, and taking road trips.
Nikita
Developer
Our backend developer with extensive knowledge in Python, React, and JavaScript. In his free time, he's a car racing enthusiast and enjoys 80s culture, cycling, and watching sci-fi movies.